Behold! Now you can create your own paint by numbers kit made by us with pure love. Whether you are a kid or an adult, expert or beginner, Painting by Numbers will come to your rescue at all times. There are various sizes, shapes and types of easy paintings to paint which you surely don't want to miss. Each kit comes with a complete tool set.
History Fact: Custom paint by numbers technique was first used by Leonardo da Vinci and introduced in USA by Dan Robbins.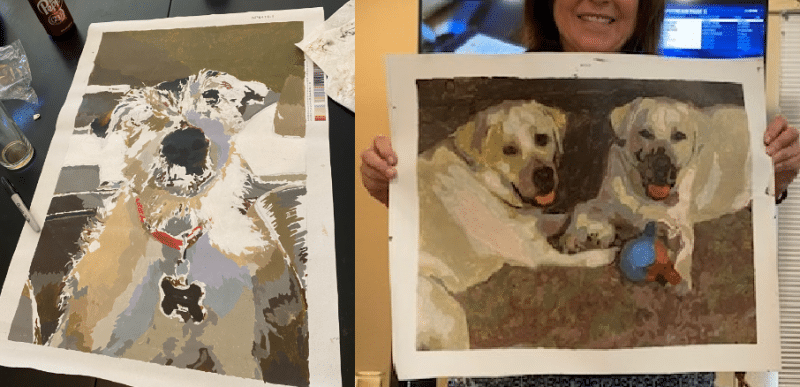 We have got 1000+ kits if you are looking to color by number online for adults or kids. Made for the all, these kits allow you to create beautiful art pieces that you can be framed to adorn your walls. Better still, these can be gifted to your loved ones and let them admire your art. The best part is you don't need any painting skills yet you will be able to paint masterpieces.
Interesting Fact: Did you know that 34th USA President Dwight Eisenhower, used to do paint a picture with number drawing?
HIGH QUALITY DIY PAINTING KITS
Customer satisfaction is our motto and we bring them nothing but the best. With over 1000+ easy pictures to paint online. Quality is ensured throughout that is reflected through our customer loyalty.
PAINTING BY NUMBERS IS THE NEW NORM
Art is magic, ever heard that phrase? The enchanted beauty of art that helps you express yourself without being judged is one of the best feelings in the world. Whether you are an adult or a kid, easy canvas paintings kits are here to your rescue. Create surreal, fantastic, colorful and unique masterpieces using the custom paint by numbers without having to learn the nitty-gritty details. Transform your vision into artistic realities with sets for adults. You will be glad to work with the magic of colors that is contained within the paintings.  
BENEFITS OF PAINT BY NUMBERS
Paint by number became one of the fastest-growing hobbies lately, it is an easy process where a picture is divided into shapes, each marked with a number that corresponds to a particular color. You paint in each shape and ultimately the picture emerges as a finished painting. In this article, we are going to talk about some of the many benefits of paint by numbers as follows: 
    1- Paint by numbers can increase concentration.
Paint by numbers allows you to engage in an activity where you perform repetitive actions, and the sole concentration of the painter on the painting helps increase the concentration of the painter. This is beneficial especially for children who have shorter attention spans and need interesting activities to keep them busy and away from their screens.
    2- Paint by numbers can reduce symptoms of anxiety.
Paint by numbers is an activity that requires a lot of time and attention. We have already mentioned above that too much screen time can cause increased symptoms of anxiety and stress, and paint by numbers will give you an excuse to keep away from your phone. This may help build healthier habits and improve your mood too.
    3- Painting by numbers improves motor skills.
We go through similar, yet repetitive motions when we are painting by numbers. These actions can boost our muscle memory and help improve motor skills. Paint by numbers can be a fun way to teach younger children some basic motor skills.
    4- Paint by numbers promotes learning.
It is a widely held belief that we all learn better when we are experiencing things firsthand. When you paint by numbers, you learn hands-on by practicing the movements and techniques again and again. It also helps with the development of better learning habits in general.
    5- Paint by numbers increase discipline.
Paint by numbers is very methodical as well as a therapeutic exercise. Discipline can be strengthened by making strong habits that can be repeated in the same way. Paint by numbers proves to be a very useful tool in helping improve discipline in a person by engaging them in a healthy habit.
Conclusion
Even though you are being guided by the numbers, the custom paint by numbers are guiding you in a relaxing and non-conformist way.
There's room to express yourself, there's a way to use your brain and a strong feeling of accomplishment at the end.
It all depends on you and your vision. You don't have to be afraid to experiment and find your own style.
If you have a custom photo and you want to create your own custom paint by number, you can simply click the button below to upload the picture you want.